Comptrollership Training Centre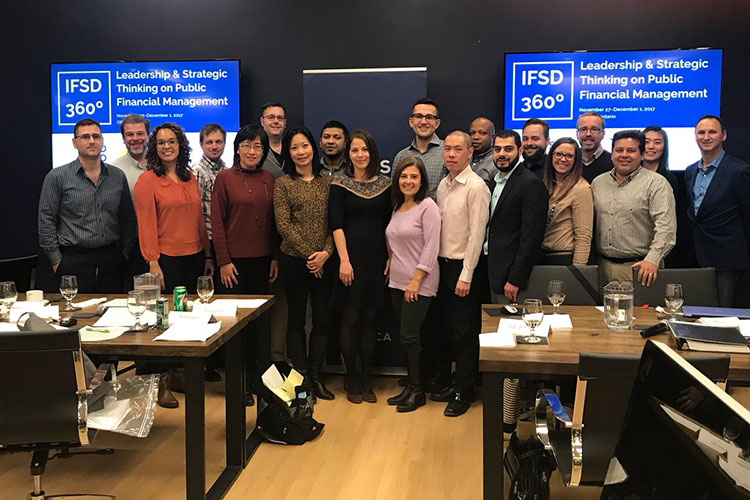 Led by Kevin Page, 30-year veteran of the federal financial community and Canada's first Parliamentary Budget Officer, this five-day course is taught exclusively by staff from The Institute of Fiscal Studies and Democracy (IFSD). This hands-on, interactive and collaborative course was created exclusively for FIs and will be hosted at the new executive education classroom in Hagen Hall at uOttawa.
IFSD 360° is a full circle insider's guide to the key facets of the financial cycle. The course is broken down into five modules:
Due-diligence and costing: Sharpen your analytic skills to improve your due-diligence and costing techniques with expert presenters and a case study based on a real file;
Estimates: Leverage the experiences of current and former parliamentarians to unpack, explore and debate the need for reform of the estimates process and existing proposals;
Forecasting:Learn to identify and unpack the information buried in the budget with veteran public servants, economic analysts and former political staff;
The financial cycle: Explore the politics, fiscal and economic considerations of transition with those who have orchestrated, managed and experienced it; and
Effective communications:Using multiple case studies, refine your skill in communicating complex information through briefing notes, interdepartmental presentations and oral briefings.
"This course was probably the most relevant and useful course I have taken yet in my career with the Government of Canada. I really appreciated that they were teaching from a practical standpoint as opposed to just all theoretical talk," Connie Fung, FI-03 at DND, said about her experience.
While IFSD staff are fully bilingual and you are welcome to express yourself in the language of your choice, course content will be in English only.
Dates and locations – Open enrollment
January 20-24 – National Capital Region – Register here

$3,000 plus tax for ACFO-ACAF members
$3,990 plus tax for non members
Dates and locations – JCDP
November 4-8 – National Capital Region

This cohort is fully funded by the Joint Career Development Program.
Participants selected through the JCDP have been contacted.
Refunds or transfers will be accepted up to 24 hours before the course. No-shows or cancellations within 48 hours of the course will not be refunded.