Your Membership
Welcome to ACFO-ACAF!
Advocating for our members; Advocating for accountability
ACFO-ACAF is the professional association and certified bargaining agent representing more than 5,000 financial professionals employed in the federal public service and at NAV Canada.
Our members are financial professionals working across Canada in 65 departments and agencies in 680 locations. Many hold professional accounting designations or business degrees.
ACFO-ACAF aims to continually improve the working conditions for our members, share information about the profession and raise awareness of the vital role played by our members.
Our objectives are to:
Act as a democratic organization responsible for obtaining the best level of compensation and terms and conditions of employment through collective bargaining and through department-level advocacy;
Offer professional labour relations services to members, helping to interpret and apply the Collective Agreement and work to resolve other workplace issues;
Maintain the highest professional standards among our members, promoting career and professional development opportunities for every member; and
Work with other associations, unions and labour organizations to enhance the interests of members and all public servants in achieving professional and bargaining goals.
ACFO-ACAF believes that advocating for our members also advocates for a strong, accountable financial management framework for the Government of Canada. We recognize that our members benefit from working in a strong system, just as all Canadians benefit from good stewardship of their tax dollars.
Therefore, we author and commission reports and policy statements, including our Checks and Balances report series. They are presented before House of Commons and Senate committees and arrange partnerships with key stakeholders to find solutions for system-wide problems.
We are proud to serve our members and all Canadians.
Proudly serving our community
Information and guidance 
Our Labour Relations Advisors are available to answer questions, navigate benefits and provide information and guidance.
Collective Agreement Interpretation
The Collective Agreements are the documents negotiated between ACFO-ACAF and the employers (Treasury Board and NAV CANADA) that set the terms and conditions of employment and establish rates of pay, hours of work and duration and availability of leave, among other things. Our Labour Relations Advisors can help members interpret their Agreement and determine how it applies in a particular situation.
Informal Conflict Resolution
This is the general label applied to any number of processes, from the well-defined Informal Conflict Management Systems (ICMS) in various departments to a simple phone call to a manager. The goal in informal conflict resolution is to solve problems without having to resort to formal grievance and complaint processes.
Our Labour Relations Advisors will help resolve conflicts informally wherever possible. In our experience, informal processes are:
Shorter than formal grievances and complaints
Non-adversarial in nature
More likely to lead to good long-term relationships between the conflicted parties
Grievances
A grievance is a formal conflict resolution process. Many are related to provisions in the Collective Agreements but members can also file a grievance over other issues. Generally speaking, a grievance can be filed over any breach of the terms and conditions of employment.
Staffing Complaints
Staffing complaints are complaints brought to the Public Service Labour Relations and Employment Board. The board has the authority to intervene in the following types of staffing complaints:
Layoff – For public servants who believe their Deputy Head abused their authority in selecting him or her for layoff.
Revocation of Appointment – For public servants who believe the revocation of their appointment was unreasonable.
Internal Appointments – For public servants who believe there was an abuse of authority related to an appointment or that their right to be assessed under the official language of their choice was denied.
Harassment and Discrimination Complaints
Public servants have a right to work in an environment free of discrimination and harassment. The definitions of each can be found in the Treasury Board Policy on the Prevention and Resolution of Harassment in the Workplace and the Canadian Human Rights Act.
FIs add more than numbers; they add value
Financial Officers have more responsibilities and abilities than just number crunching. They are strategic thinkers, project managers and program deliverers. They are called upon to provide insights into their numbers and share their significance within the context of a program or department.
From an accountability standpoint, FIs work with departmental managers to ensure that they exercise their responsibilities in accordance with the Government of Canada Financial Control Framework.
This includes effective delegation of signing authorities and compliance with various legislative acts and administrative policies, such as government contracting regulations, spending authority under sections 32 & 34 of the Financial Administration Act and payment authority under section 33 of the Act.
FIs ensure managers not only understand their responsibilities and accountabilities, but also what recourse mechanisms are in place in the department if these responsibilities are not upheld. Managing risk is a critical part of financial management.
In short, Financial Officers add more than just numbers – they add value.
Below are some figures about our membership. Click here for the full-sized image.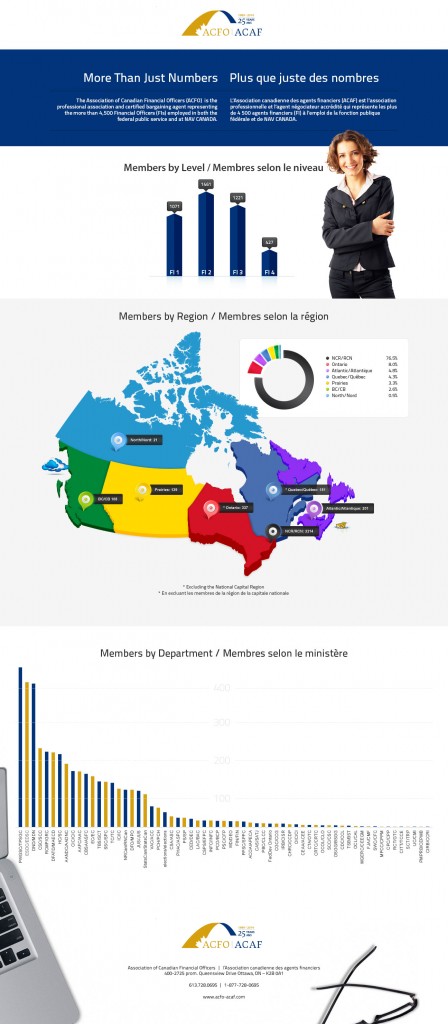 Working for Canadians since 1989
Since its foundation, ACFO-ACAF has established itself as a unique and specialized organization representing dedicated finance professionals.
Prior to the establishment of its own association, the FI Group was represented by the Financial Administration component of the Public Service Alliance of Canada. In 1988, a group of FIs led by Merdon Hosking established a separate association to represent the specific interests of the financial management community. This provided the opportunity to serve as more than a traditional bargaining agent.
With an eye towards being an advocate for strong financial management in the public service, the Association (originally known as APSFA) began appearing before House and Senate standing committees. In December 2003, the Association published its first major policy paper of the Checks and Balances report series, which served to cement the Association's reputation as a key stakeholder in financial management discussions. In June 2004, the Association changed its name to ACFO-ACAF.
Since then, the Association has published four more Checks and Balances reports and white papers. ACFO-ACAF routinely appears before committees and bodies such as the Standing Committee on Government Operations and Estimates, the Public Service Pension Committee, and the Office of the Comptroller General. ACFO-ACAF has also appeared before the International Labour Organization and at international events organized by Public Services International and others. The Association has reported on such high-profile issues as whistleblower protection, the implementation of the Federal Accountability Act and the Commission Inquiry into the Sponsorship Program and Advertising Activities.
ACFO-ACAF has also advocated for the investment in strong public services across the globe. In January 2013, ACFO-ACAF joined Public Services International, a global non-government organization (NGO) defending the rights of all people to quality public services, regardless of social, economic or geographic conditions. The association also joined forces with IFPTE (International Federation of Professional and Technical Engineers) in September 2014, working together on an informal and/or a project-based basis advocating for rights such as professional development, fair taxation, and anti-corruption.
Today, ACFO-ACAF is recognized as a professional association, an advocate for prudent financial management and a valued stakeholder in the public sector financial management community. With more than 20 years of constructive labour relations, ACFO-ACAF vigilantly advocates on behalf of its members and ensures that Financial Officers are respected and valued for their contributions to Canada.
Register your membership
All members of the Comptrollership Goup in the federal public service and the Financial Officer group at NAV Canada are dues-paying members of ACFO-ACAF. However, in order to enjoy the full benefits of membership, members must register with the Association.
Registering your membership allows you to:
Have your say: Registered members get to vote on the Collective Agreement, elect members of the Board of Directors and take part in Annual General Meetings.
Serve the CT Community: Registered members can stand for election to the Board of Directors and serve on committees including the compensation and benefits committee.
Stay informed: Registered members receive communications from ACFO-ACAF about collective bargaining updates, professional development opportunities, and more.
Reap the benefits of membership: Registered members have access to a number of discounts on professional services.
Click here to register online, or you may download the membership form (225 kb .pdf) and send it to our Membership Services team by email or fax (613 761 9568).