Comptrollership Group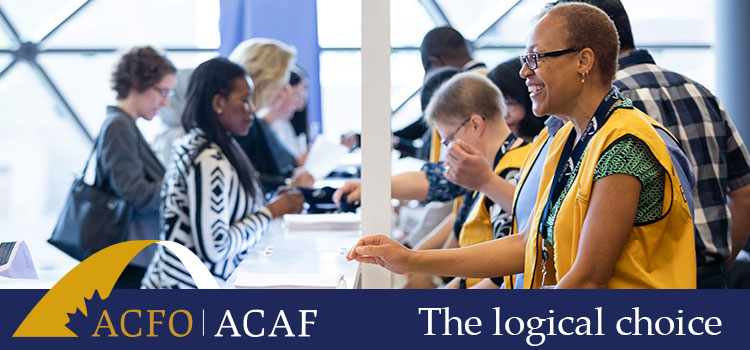 Getting to know ACFO-ACAF
We at ACFO-ACAF are excited to begin welcoming public service auditors to ACFO-ACAF community as part of the new CT Group, and we know many of you are probably curious about your new union. Here you'll find the information we think you need to know about us, but if we've left any of your questions unanswered or if you would like more detail, please don't hesitate to get in touch. Our Director of Labour Relations and General Counsel Scott Chamberlain (schamberlain@acfo-acaf.com) would be happy to hear from you.
30 years of professional representation
ACFO-ACAF celebrated 30 years of representing public service financial professionals in 2019. Throughout our history, we've established a reputation for professionalism and thoughtfulness. We are firm but fair advocates for our members and a respected voice on key issues, which has resulted in direct benefits for our community, including:
above-average increases at the bargaining table;
group-specific wins for FIs including better annual leave provisions and $1M per-year training fund jointly managed with the employer;
an in-house training and development institute specifically tailored to financial professionals; and
influence beyond our size on Parliament Hill and in the national and international labour movements.
But don't take our word for it, ask our members!
Direct accountability to our members
ACFO-ACAF is a flat organization; we don't have chapters or locals. This keep our dues low while maximizing value and ensures all ACFO-ACAF members have an equal voice. Every member has the right to get one-to-one labour relations support directly from our professional staff and every member has the right to vote on resolutions and bylaw amendments and for our board of directors.
Once the CT Group transition is complete, you as ACFO-ACAF members will automatically have the same rights to voting and direct labour relations support. However, there are still decisions to be made regarding ACFO-ACAF's governance structure, and it is important to us that the audit community has a say in the decision-marking process.
As we move forward with the CT Group transformation, we want to hear from you and work with you to determine the best way for your voice to be heard within ACFO-ACAF. We strongly encourage you to contact Director of Labour Relations and General Counsel Scott Chamberlain (schamberlain@acfo-acaf.com) with your ideas, feedback or recommendations.
Services beyond the norm
As a union, we're proud of the labour relations service we provide directly to our members – from answering questions about provisions of your collective agreement to support and representation on even the most complex grievances or complaints. Our approach is collaborative and professional, and our members consistently rate us highly for service quality.
But we're so much more than a union: we're a professional association too, one that is committed to helping our members progress in their careers and meet their development goals. We run our own in-house professional development institute called the Comptrollership Training Centre; we provide a career matchmaking service through our CV Inventory and we carry out an annual membership survey so you can share your thoughts on your department's performance on key issues including work-life balance, professional development and working environment. We're always working to meet and anticipate your needs as financial professionals in the public service.
ACFO-ACAF: Your union, your community
We at ACFO-ACAF pride ourselves on the strong sense of community we have built alongside our members, and we are so looking forward to welcoming you to that community and helping you make it your own. We encourage all auditors to fill out a membership form to help ACFO-ACAF learn more about our newest members and how best to serve you.
Many of you submitted the membership cards that helped ensure ACFO-ACAF was chosen to represent the new CT Group and that is something we will not soon forget. We will take the coming months of the CT Group transition as an opportunity to prove to you that ACFO-ACAF offers superior service and the best possible representation for all public financial professionals. It's a high standard that we as a union – as your union – are excited to meet.